When you picture a bathroom, what do you see? Lots of white tile and a vanity with a few drawers and a cabinet?  According to the pros, the bathrooms of the future have much more to offer. Here's the biggest, most surprising bathroom trends you'll see in 2019.
Bold Color
Color, color, color. You're going to see more color in cabinetry, details, and definitely in backsplashes. People are getting tired of white and gray. Look for pops of emerald green, deep blues, or even bold blacks.
Wallpaper
Wallpaper is back and making a statement in bathrooms, especially powder rooms where steam is not an issue. So don't be surprised if you see playful, bold paper popping up in more and more bathrooms.
Industrial Elements
It's the industrial look that's going to be sweeping bathroom trends in 2019. Look for exposed pipe-style legs for consoles, as well as industrial, pipe-style faucets and shower valves. The industrial look pairs beautifully with a white, modern marble. You may even spot concrete countertops. Whether your bathroom is contemporary or traditional, concrete countertop surfaces are complementary to most styles with hues ranging from earthy to vivid.
Open Shelving
The open shelving trend that started in the kitchen has finally made its way to the bathroom for 2019. We will see more open shelving underneath sinks and open linen shelving as well.
A Beautiful View
It turns out a bathroom simply hasn't reached its full potential if it doesn't have a great view. It's not that far-fetched that a sink be in front of a window—isn't this the norm for kitchens? Whether your vanity or tub is positioned in front of the window … the bathroom is the new 'room with a view'.
In addition to achieving a more contemporary look, these suspended vanities offer other, more practical benefits, including the ability to store items underneath. In some cases, they're cheaper than traditional cabinetry solutions, because they require fewer materials.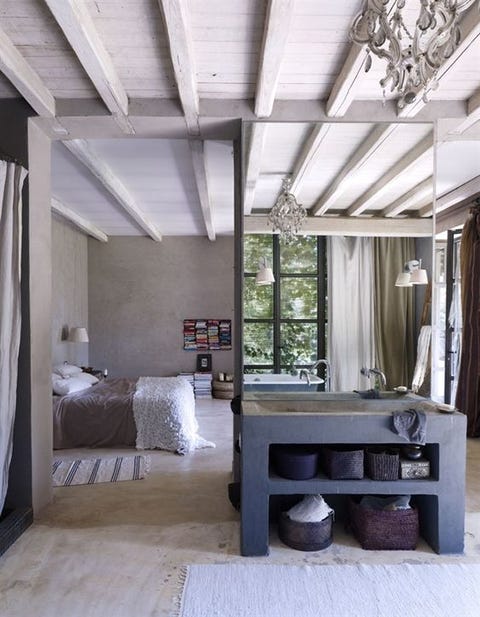 Gone are the days where you hide behind a wall or door when getting ready for work or a big night out. It's all about the open concept. The use of steel or privacy glass as a barrier is important, but ultimately, showering and getting ready in the open air is awesome.